Juice: Frankenvape
Vendor/Maker: The Standard – http://stndrdvape.com/ (Multiple Vendors)
Info: ??/?? PG/VG – 18mg nic
Pricing: ~$22 for 30mL (.73/mL)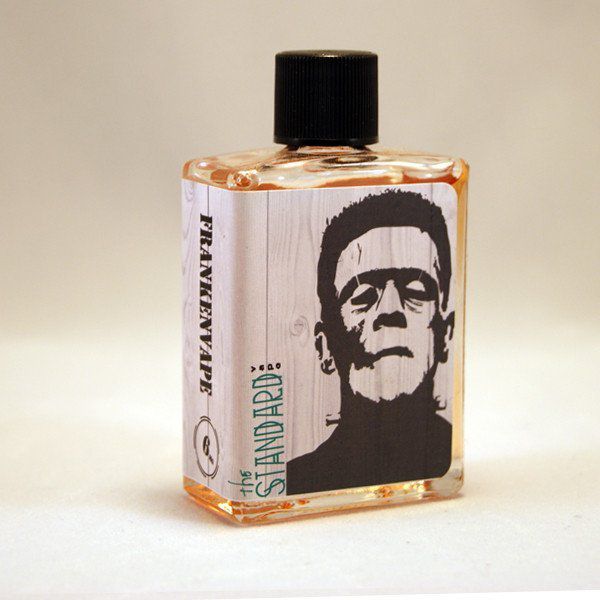 Back in July, I attended Vapeapalooza just outside of the city, and came across a myriad of great juices to try out. There were a few that really stuck out to me, and Frankenvape is definitely one. When I approached The Standard's display, the unique glass bottles caught my eye first (and after a few "judging a book by its cover" lessons from the past, I tried to not let that sway my impression), and a pretty nice illustration on this bottle persuaded me to sample it first. The bottles from The Standard are very non-descript; only showing a title and illustration, along with a nicotine mg rating.

Enough on the bottle, on to the juice itself. With no listed PG/VG ratio, and after a couple months of steeping, I'm going to guess around 70% VG, if not possibly 100%. With that being said, the first point I have to make about Frankenvape is to give it some time. When I first tried this juice out upon arriving home from the convention, it had a bit of an overpowering kiwi/lime taste, with no real marshmallow flavor. Decided it was best to just let this steep for a bit since the juice was already quite thick, but lacked a rich coloration. Two months of steeping later, we have arrived at greatness.
Once some ample steeping has taken place, the flavors are very pronounced, and blend unbelievably well. Described as a kiwi-marshmallow flavor, the kiwi itself has a nice, creamy taste on the initial inhale, with a slightly melted marshmallow exhale. The aftertaste is wonderful, and the kiwi mixed with marshmallow leaves a very tasty, almost creamy key lime pie flavor.
I've given Frankenvape the All Day Vape tag in my book, as it just works well with almost everything. I really get the most from this juice when I'm consuming my go-to beverage of rum & coke. That little hint of lime on the aftertaste is just delicious.
As far as delivery mediums go, this is a dripper for sure. I have successfully cracked an iClear 30, and vivi nova mini with prolonged use of Frankenvape. Had a feeling I wouldn't get great performance in tanks, but wanted to try anyway. On the other hand, in an IGO-L and Octopus RDA, Frankenvape lives up to and beats its expectations. I've found myself dripping this juice like crazy lately since it's finally hit that sweet spot in steeping and is just right.
If there is only one qualm I have with this juice, it would be the bottle, so that goes for the entire line. The bottle design is unique, and classy in a hipster sort of way, but the open top makes it absolutely necessary to either fill a flip top, or bring along an injector/tube for filling. I like to take my PV with me when I go out, and just having the original flip top dripper bottle that most companies use is so convenient, especially in comparison. This almost leads me to wonder if the pricing is somewhat higher because of the aesthetic aspects of the packaging…
Packaging aside, if you get a chance, try this juice out. Frankenvape is available from numerous online juice retailers, and popping up in vape stores around the country